Located at the confluence of the Fremont River and Sulphur Creek is the settlement of Fruita, Utah.  Fruita was founded by a group of Mormons in 1880 and was abandoned in 1955 when the national park services purchased the town to be part of Capitol Reef National Park.
All that remains of the town is the one room school house, the Gifford house and barn and around 3000 fruit and nut trees.  When we visited the trees were past their flowering stage and were all green and leafy but in the fall they will be laden with cherries, peaches, apricots, walnuts and more.  When the fruit is ripe and the respective gate to an orchard is unlocked, visitors are welcome to come and sample or byob and take some with you providing you weigh and pay at the set up stations.  It should be cherry and apricot season right about now.
One of the many orchards in Fruita.
While there is no "food" to be purchased in the Capitol Reef National Park, you can buy soap, aprons, candles,cookies, ice cream and pies at the Gifford Homestead.  I just wanted to try a pie!  The first day we went for pie we were too late and there wasn't a pie to be found.  On our second try there was pie!  A nice peach pie with such a tender flaky crust.  Sorry, no photos of the yummy thing … it didn't last long enough to be photographed.
(Images from the NPS)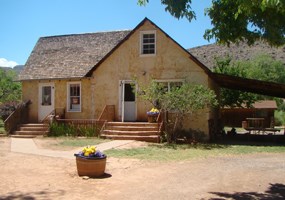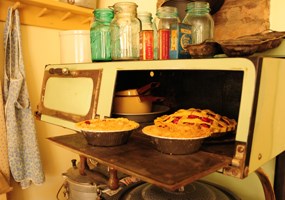 After a long hike or just anytime one is in the mood for pie (and when isn't one in the mood for pie?) this is a perfect spot to stop, pick out the flavor you want and then sit at the picnic area to enjoy it.
Gifford barn with its adjacent orchard and picnic area for pie with a view.
All this talk of pie is making me hungry for one right now.  What's your favorite kind/s of pie?  Lemon meringue and peach are my faves.
Teri  📷